Monroe, Washington
On a nice day when we just wanna ride for a while, we usually head up to Monroe, Washington. It's about 42 miles from our house and a nice ride. We have gone up several times this summer, just to hang out for a while in the park and take some pictures by the Skykomish River. We have also gone further over Stevens Pass and spend the night in Wenatchee. Thats about a 150 mile ride through some awesome mountains and alongside the Wenatchee River in Leavenworth its just beautiful. Leavenworth is a German town. If you wanna eat german food and have some beer, thats the place to be. There's also tons of little shops to browse around in.
Anyway, it's a pretty ride, we enjoy it and I'll post you some pictures (hope you're not tired of pics yet). It is pretty country when you get out of the city and it doesn't rain (grin).




Below a view of the Skykomish River. Skykomish River is one of the rivers that floods during our rain season along with the Cedar River and several others.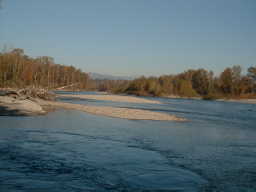 With my Honda Magna 750 and hubby's Valkyrie, below.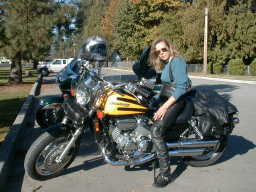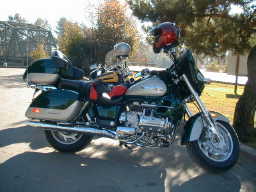 Pictures and copyright: Carmen Adams, 1999

Forward To Darrington Pictures