The Laughlin Horseradish Rally
On Febuary 4-6th 2000, ten members of our motorcycles community got together for a second meeting in Laughlin, Nevada. We spend the weekend gambling, eating ,visiting and just plain having fun. I also had the pleasure of meeting three additional members: Sunflower, MotoX and Dasmon, all regulars in the motorcycles chat room. These are the pictures of this second meeting.





All of us in front of the Days Inn Hotel in Laughlin, Nevada. From left to right: Liza & Ted (MotoX), Kathy (Minxy), Carmen (LadyBlue), Joanna, Mary (Sunflower), Doug (Dasmon) & Johnny (MystycWizard). Frank (Sunrider) and hubby Don (Echomaker) are taking the pictures.





Joanna Strohn & Mary LaDuca, ready and armed with cameras in hand.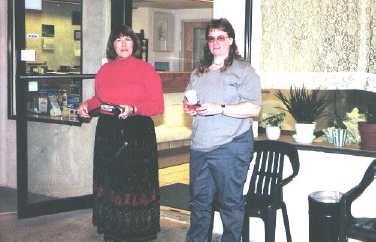 Frank, Carmen & Ted in front of the Days Inn Hotel, ready for dinner.